For user manuals and other information relevant to legacy Mountbatten Braille Whisperer and Mountbatten Brailler Classic please see this page:
Mountbatten Brailler Tutor User Guides
The most current versions of the User Guides for your MB Tutor are available on this site.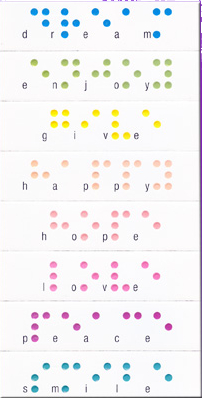 Click on the links to access these files in pdf format.
Mountbatten Brailler Tutor firmware downloads
Keeping your machine up to date:
To update your MB Tutor to the latest firmware version please:
click the following link – this will download the MBUPDATE.TUT-1.6.13 (2022-09-06).zip file: firmware
unzip the archive file downloaded
place the MBUPDATE.TUT folder with its contents in the root folder of a Pendrive (USB thumb memory)
connect so prepared Pendrive to the right-hand USB socket on the MBTutor
while the USB drive is placed in the socket (when MB Tutor is on), you will hear a "USB memory connected" message
choose menu System -> Update device
after an additional prompt, the update process will start automatically
In case of any problems, please see this page soon. We will place detailed information on how to troubleshoot a failed update.
To see the MB Tutor firmware change log please read this file: Cnangelog.txt
Mountbatten Brailler with MBMimic, MB-Comm
MBMimic for iOS/Android
MBMimic is an app that enhances the power of Mountbatten Brailler, MBMimic is available free of charge for all iOS users in App Store.
MBMimicX is an app that enhances the power of Mountbatten Brailler, MBMimicX is available free of charge for all Android (version 10 or higher) users in Google Play Store.
MB-Comm for Windows
MB- Comm for Windows is here for free download. Required USB cable connection with the Mountbatten.
When you connect MB Tutor with a PC through a USB cable for the first time the Windows 10 system (or newer) will look for the needed drivers and install them automatically. In rare case when it does not happen – please download and install them from here:
Braille Graphics
Making pictures from the Mountbatten Keyboard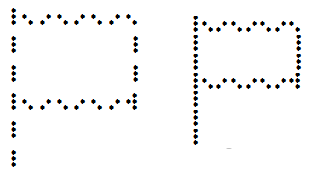 In normal Braille, or non-graphics mode, your Mountbatten allows the correct amount of space between Braille characters and between lines of Braille for reading. In Graphics Mode, these spaces are reduced, so that it is possible to make unbroken lines of dots.
The effect of reducing the spacing between characters and lines can be seen in this graphical example. In the first picture of a flag, the normal line-spacing means that the picture has gaps which will make it more difficult to identify. The second picture has had the gaps reduced, and the line of the flagpole is now continuous, while the edges of the flag have smaller gaps.
As soon as your MB-LS is in Graphics Mode, typing at the keyboard can produce an image. The simplest example is a rectangle:

This rectangle can be made by typing the following three lines:
p c c c c c c th
l space space space space space space dots 4 5 6
v - - - - - - number sign
For the rectangle, the PC keyboard keystrokes are:
pcccccc?
l space space space space space space _
v------#
For more Braille drawings you can type on the Mountbatten keyboard,
click the link to Marie Porter's book: "So What About Drawing?".
For user manuals and other information relevant to legacy Mountbatten Braille Whisperer and Mountbatten Brailler Classic please see this page: